Gouden Kalf voor Alex Simu
Filmmuziek 'Beyond Sleep' is de Beste!
zaterdag 1 oktober, 2016
Klarinettist Alex Simu - bij velen bekend als lid en mede-oprichter van de succesvolle groep Arifa - is sinds kort actief als componist van soundtracks. En met succes, want met de muziek voor 'Beyond Sleep', gebaseerd op de roman 'Nooit Meer Slapen' van W.F. Hermans, sleepte hij meteen een gouden kalf in de wacht tijdens het Nederlands Film Festival in Utrecht.
De trailer van de film




Het dankwoord van Alex Simu zoals hij dat uitsprak tijdens de inontvangstname in de versie zoals Alex Simu die op zijn facebookpagina plaatste:
'He wanted to come home with me, so, I could not say no!
I can not thank you enough my dear friends for being close throughout this amazing journey and making my life so beautiful!
I want to specifically name and thank some of the people who where very close in the process of making the soundtrack. You supported, you trusted and you inspired me. Boudewijn Kolle, Iris Lammertsma, Mark Glyne, Gys Zevenbergen, Melle van Essen, Natalie Bruijns, Reinout Scholten van Aschat, KeyFilm and FilmCamp and the whole cast and crew which shared their beautiful energy to make this film. Very special thanks to the musicians George Dumitriu, Jörg Brinkman, Matthias Konrad and Axel Schappert. Marc Schots for the recording in Amsterdam, Benjamin Mørk the recordings in Tromsø.

Extra special thanks to Mari Boine for her amazing spirit and voice.
Splendor Amsterdam for having us there recording, Dimitar Bodurov and the Heartland studio for having us mixing the music there.
Many thanks for the close by extra inspiration and support from Sjahin During, Konrad Koselleck, Jenela Kostova, Franz von Chossy.
Many thanks also to the memebers of the Dutch Academy For Film for voting and awarding me.

Last but definitely not the least, enormous thanks to my family. This very special price I want to dedicate to my uncle Dan Creimerman. Not only that he saved my life several times when I was less then one year old, throughout my life he was there taking care of me and teaching me so many things about life and music, and also for when I was 5-6 years old I was going to the premiers of the movies for which he composed beautiful soundtracks. Then it was when I imagined for a second, "what would be if, one day I can do this also". Many thanks to my dear mother, not only for makinging me and rising me, also for believing in me and giving me courage to be the man I am today. The very last but for sure not least at all, I want to thank to my father, from up there wherever he is now, I know that the joy of music I discovered when I heard him playing piano in our house.
If I forgot anyone to mention, you know for sure that in my heart and soul you're not forgotten. Thank you from my heart!'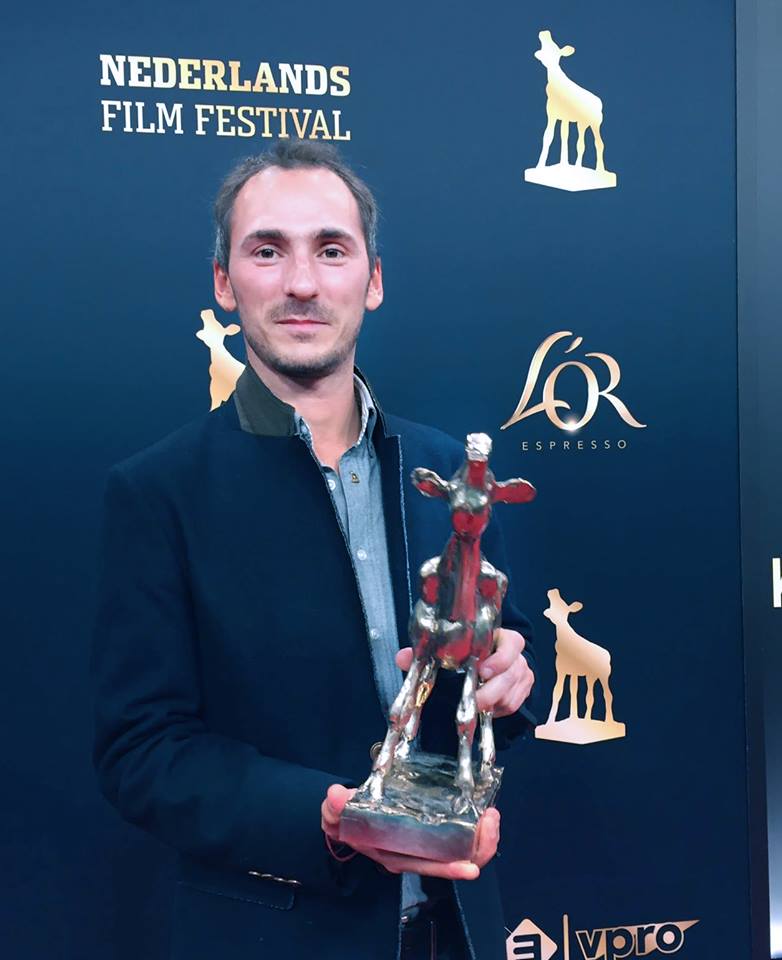 Tula en Juliet - mijn overgrootmoeder, de slavin
maandag 25 september, 2023
Concertserie seizoen 2023-2024 met Meral Polat Trio, Chieko Collective, Boi Akih, Las Lloronas, Emine Bostanci & Dareyn en Marmoucha Orchestra
woensdag 20 september, 2023
zondag 17 september, 2023
Hoe het Gnawa Festival onverwacht veranderde in een benefiet-evenement
zondag 10 september, 2023
Plus de Transglobal World Music Chart Top-40
vrijdag 1 september, 2023
Er gloort licht op het dak!
dinsdag 22 augustus, 2023
In Zeist doen ze het gewoon!
woensdag 16 augustus, 2023
Gitarist Will Bernard over Sky en Anahita
woensdag 16 augustus, 2023
Afscheidsconcert van het Tropicalia-icoon in Het Concertgebouw
zaterdag 12 augustus, 2023
donderdag 10 augustus, 2023